Diabetic Shoe Program and Custom Bracing
Our Diabetic Shoe and Custom bracing program includes crucial care and guidance by our certified orthotist and pedorthist. This proper and continuous foot care can drastically improve the health of your feet, ankles, and lower legs.
Approximately 26 million people in the United States struggle with diabetes mellitus, a disease that can lead to a range of health issues, including conditions affecting your lower limbs. To help minimize pain and improve quality of life for our patients and others throughout our community, the team at Ocean County Foot & Ankle Surgical Associates, P.C., has launched a diabetic shoe program designed with comfort, convenience and overall well-being in mind. Davison de Queiroz is highly skilled in assisting patients as a certified orthotist and pedorthist servicing patients with bracing and custom shoes.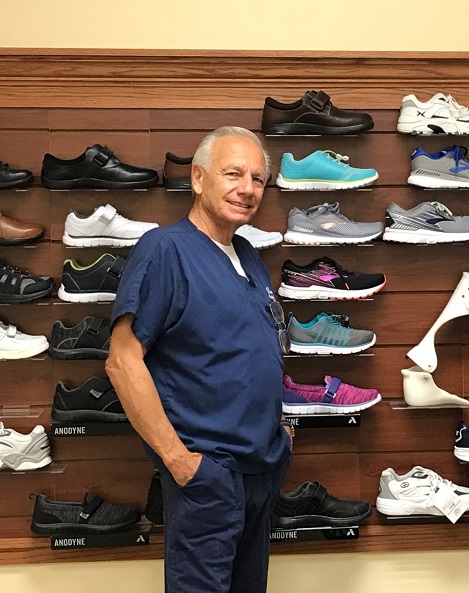 Diabetic Foot Care
Diabetes is commonly known as a blood sugar condition, so it can be surprising to learn that uncontrolled or under-managed diabetes may lead to nerve damage. That damage, called sensory diabetic neuropathy, can make it difficult to feel heat, cold or even pain in your lower extremities. There is also a higher risk for diabetics to develop peripheral vascular disease which happens when fatty deposits clog blood vessels, leading to pain, infection and slow-healing wounds.
Diabetes can turn common foot conditions that are typically resolved with simple interventions into serious problems. These include:
Neuropathy
Skin changes
Calluses
Poor circulation
Foot ulcers
If you have diabetes, it is crucial to seek the care and guidance of a certified orthotist and pedorthist. Proper and continuous diabetic foot care can drastically improve the health of your feet, ankles, and lower legs, especially when combined with a diabetic shoe program.
The Benefits of Diabetic Shoes
Everyone should have comfortable, well-fitting shoes as the cornerstone of their footwear collection. This helps prevent issues such as calluses, bunions, poor posture, and back problems. Diabetic patients often need to take an extra step in acquiring other types of shoes specifically designed with diabetics in mind:
Shoes with extra room: These shoes offer expanded depth, giving feet up to an extra half-inch to move. For patients with larger calluses or hammertoes, that extra space can be life-changing in terms of comfort.
Healing shoes: Shoes with modifications such as open toes or sides are useful when recovering from surgery or nursing a wound.
Custom shoes: These highly personalized shoes are created using a mold of your feet. Therapeutic in nature, custom shoes can accommodate whatever foot health concerns you currently have and in some cases, adapt to issues your doctor may suspect are in your future.
Orthotics: Modify your existing shoes using custom or stock orthotics that add cushioning and shock absorption to relieve pressure and provide extra comfort.
Custom Bracing
Orthotic braces can be used to support progressive weakening, such as drop foot or a fallen arch. By investing in custom bracing, you help correct foot and ankle alignment, leading to better posture and functionality. Custom bracing could be exactly what you need to lower your fall risk and reduce the possibility of stumbles and trips as you go through your daily activities.
About Ocean County Foot & Ankle Surgical Associates, P.C.
We take an enormous amount of pride in being one of the most trusted podiatric practices in central and southern New Jersey. Our team includes board-certified foot and ankle surgeons trained to diagnose and treat a variety of disease affecting your lower extremities. Our highly educated and experienced physicians pair expertise with unparalleled care and attention to give you the solutions you need to live life to the fullest.
In addition to diabetic foot care, we also offer treatment for traumatic and sports-related injuries, pediatric foot solutions, and elective foot and ankle surgery. Our state-of-the-art facilities are furnished with innovative equipment to help us conduct digital X-ray imaging, nerve testing, vascular testing, and some on-site lab work, making it easier and more convenient than ever to serve our patients.
Sign Up For Our Diabetic Shoe Program
If you're struggling with the side effects of diabetes and seeking relief, Ocean County Foot & Ankle Surgical Associates, P.C., may be able to help. We have six office locations located in Forked River, Toms River, Toms River West, Whiting, Brick and Browns Mills, New Jersey. To make your appointment, find the location most convenient for you and call our team today. We're open seven days a week (Saturdays and Sundays by appointment only).